THE VISITING (HEIMSUCHUNG)
Horror; 100 min.
Drehbuch, 95 Seiten
Production Company: Glitter & Doom Filmproduktion e.U.
https://www.glitteranddoom.at/heimsuchung
Status: Pre-Production
Script Development Funding by the Austrian Film Institute, 2016
Project Development Funding by the Austrian Film Institute, 2018
Project Development Funding by The Vienna Film Fund, 2019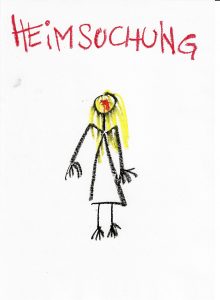 Logline
Manu, an alcoholic in her late thirties, is about to lose custody of her 8 year old daughter Hanna. In order to spend some time with her and to prove that she's still a functioning mother, Manu sneaks off with Hanna for a short trip. When they are being haunted by a dreadful woman, Manu has to face her deepest fear. For the creature wants her daughter.
ADAM
Thriller
Screenplay, 105 pages
Production Company: CAPRA Film
https://www.caprafilm.com/adam/
Status: Pre-Production
Logline
ESRA (29) ist dabei sich in den charismatischen ADAM (38) zu verlieben. Doch sein Verhalten nimmt zunehmend kontrollierende Züge an. Esra möchte auf Abstand gehen, Adams Ego lässt das nicht zu. Im Versuch, sein eingerissenes Selbstbild wieder zu kitten, überschreitet er immer mehr Grenzen. Bis Esra sich zur Wehr setzt.
Script Development Funding by the Austrian Film Institute, 2020
THE EDGE (DER RAND)
Drama
Screenplay, 95 pages
Logline
Drug runner Daniel and the young waitress Pia are under pressure – a body has to disappear. When Pia reaches out to her boss and former lover Breitner for help, the three form a fatal complicity.
– Carl Mayer Young Talent Prize 2013