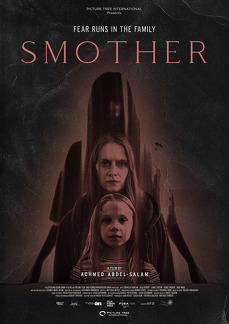 Genre: Psychological Horror
Written and Directed by: Achmed Abdel-Salam
Cast: Cornelia Ivancan, Lola Herbst, Heinz Trixner, Inge Maux, Lukas Turtur, Gisela Salcher
DoP: Alexander Dirninger
Editor: Matthias Writze
Producers: Lena Weiss, Eugen Klim
Production Companies: Glitter and Doom Filmproduktion e.U
https://www.glitteranddoom.at/heimsuchung
Prisma Film- und Fernsehproduktion
https://www.prismafilm.at/film/heimsuchung
Senior Producer: Viktoria Salcher, Mathias Forberg
Release: 14.04.2023
LOGLINE 
After the death of her estranged father, Michi, a dry alcoholic, must take care of his estate. In her parents' old house, she comes across a strange child's drawing, conjuring up a dark trauma. The ghosts of her past begin to haunt her and threaten her young daughter.
FUNDING
ÖFI – Austrian Film Institute, ORF Film/Fernseh-Abkommen, FFW, Filmstandort Austria, Land Niederösterreich
SMOTHER is a pilot project for green filming, as the film already complies with the guidelines of the Austrian Film Institute, which will be valid from 2022, and is also to be produced according to the criteria of the Austrian Eco-label 76 for film and television.
LINKS
https://www.instagram.com/heimsuchungfilm/
https://www.facebook.com/heimsuchungfilm/
ADAM
Thriller
Production Company: CAPRA Film
https://www.caprafilm.com/adam/
Status: Script Development
Script Development Funding by the Austrian Film Institute, 2020
THE EDGE (DER RAND)
Drama
Logline
Drug runner Daniel and the young waitress Pia are under pressure – a body has to disappear. When Pia reaches out to her boss and former lover Breitner for help, the three form a fatal complicity.
– Carl Mayer Young Talent Prize 2013