The Edge (Der Rand)
Drama, 100 min.
Drug runner Daniel and the young waitress Pia are under pressure – a body has to disappear. When Pia reaches out to her boss and former lover Breitner for help, the three form a fatal complicity.
– Carl Mayer Young Talent Prize 2013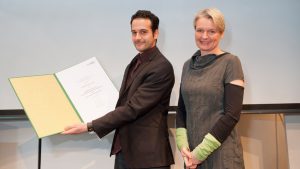 ______________________________________________
Ashes and Dust (Asche und Staub)
Drama/Sci-Fi. 12o min.
Vienna, 2065.
After illegally cloning his departed wife HELENA, young soldier MAKAIO has to deal with her dying again. The clone version of Helena falls ill with an aggressive disease, leaving them little time. Unable to accept her fate, Makaio forces Helena and their 10 year old son LIAN to set out for a cure. A strenuous journey through the postwar country ensues.
A philosophical science fiction film about life and death.
______________________________________________
THE VISITING (HEIMSUCHUNG)
Drama/Psychohorror, 100 min.
Manu, an alcoholic in her late thirties, is about to lose custody of her 8 year old daughter Hanna. In order to spend some time with her and to prove that she's still a functioning mother, Manu sneaks off with Hanna for a short trip. When they are being haunted by a dreadful woman Manu has to face her deepeest fear. For the creature wants her daughter.
– Script Development Funding by the Austrian Film Institue, 2016
______________________________________________
Beyond (Jenseits)
Drama, 100 min.
A woman kills herself, leaving behind a guilt ridden husband and two grown up daughters. While the young women cope with their grief by escaping into excessive sports or drug use, their father goes through a spiritual awakening.