August 2021
It's a wrap! Thanks to our terrific crew and cast we were able to wrap principal photography of "HEIMSUCHUNG"! I'll be forever grateful for this adventure with producers Lena Weiss, Eugen Klim, Viktoria Salcher and Mathias Forberg. © Glitter and Doom
_______________________________________________
March 2021
We are officially starting pre-production on THE VISTING (working title)!
After receiving production funding by the Austrian Film Institute, ORF and Film Fund Vienna we're jumping right into the exciting phase of planning our shoot!
For all interested here's a good read about what pre-production means in filmmaking: https://www.studiobinder.com/blog/what-is-pre-production-definition/
I'll keep you updated!
---
July 2020
ADAM has been selected for Script Development Funding by the Austrian Film Institute! Thank you so much to all involved, especially the amazing team of CAPRA Film which has supported the project from the start. Looking forward to polishing the screenplay.
https://www.caprafilm.com/adam/
---
February 2020
The Education Sector of UNESCO has recently published a handbook, part of a two-part kit:
Empowering students for just societies: A handbook for primary school teachers
I am very excited that the children's book "The Online-Zoo", that I worked on as an illustrator has been included.
The handbooks provide relevant and accessible educational resources to teachers and teacher trainers aiming to support the development of youth who are critically informed, socially connected and ethically responsible and engaged.
The publications are available in English and Spanish and, currently French and Arabic versions are in the works.
Here's a quick review of the book's journey so far:
"The Online Zoo is not an ordinary zoo. At this zoo, it's not only Director Elsa who goes online; the animals are using the internet as well. Smartphones, tablet PCs and laptops are part of daily life at the zoo. During her daily tour around the zoo, Director Elsa discovers that the internet and all the electronic devices can cause challenges. Panda Paul is being cybermobbed by the hyena, giraffe Greta accidentally ordered stuffed animals on the internet and monkey Maurice can't stop playing with his smartphone. Will Director Elsa be able to help all the animals?"
Who is talking behind the screen? Beware of the sock puppets! Download the guide of our #OnlineZoo: https://t.co/jxmttT73wK @ISPA_at @safeinternetday @EU_Commission @UNODC #Education4Justice pic.twitter.com/WBDduDvoHA

— UNODC's Doha Declaration Global Programme (@DohaDeclaration) February 8, 2018
Uzbekistan, Tashkent supported the Doha Declaration initiatives in May 2018 by distribution of OnlineZoo Book among 150 pupils of primary school. Teachers devoted one lesson to discuss topics of the Book with children and parents continued discussions at home! pic.twitter.com/cKHiaQBCQD

— Gulnar Kudaybergenova (@Gulnar17767085) May 17, 2018
Teaching about the online, through the offline!

The very talented 'Cuentacuentos' theatre troupe performing at @MuseoTinMarin with their interpretation of the @ISPA_at-developed #OnlineZoo educational book.

More at https://t.co/PdXtwUYVi1 ? pic.twitter.com/l0UyuglkdV

— UNODC's Doha Declaration Global Programme (@DohaDeclaration) January 31, 2019
---
Juli 2019
The Vienna Film Fund supports our horror film HEIMSUCHUNG with project development funding. Many thanks for the faith in our feature plans!
---
July 2019
"HEIMSUCHUNG" (The Visiting) received project development funding from the Vienna Film Fund.
Thank you so much for the support!
https://www.filmfonds-wien.at/foerderung/aktuelle-zusagen/zusagen-2019
December 2018
"Adam & Esra" is a VIMEO STAFF PICK!
So excited that our film will now reach even more people!
November 2018
My horror screenplay HEIMSUCHUNG (The Visiting) has been selected for project development funding by the Austrian Film Institute!

HEIMSUCHUNG (The Visiting)
Horror
Production Company: Glitter and Doom Filmproduktion e. U. https://www.glitteranddoom.at/
Producer: Lena Weiss https://www.imdb.com/name/nm4898789/
Screenplay & Directing: Achmed Abdel-Salam
DoP: Alexander Dirninger https://www.imdb.com/name/nm2383821/
Editing: Matthias Writze https://www.drehbuchforum.at/autorinnen/autor_details?id=160
A woman's fight against her demons. A mother's struggle to be near her daughter.
October 2018
"Adam & Esra" wins "Best Love/Romance Film 2018" at the Austrian Film Festival!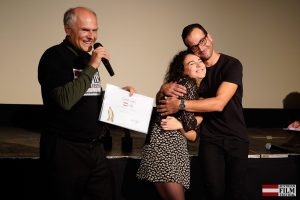 August 2018
More Festival News – "Adam & Esra" will be screened at

May 2018
"Adam & Esra" goes Palm Springs International Shortfest. The biggest short film festival in Northern America
https://www.psfilmfest.org/…/short-film-finder/adam-and-esra
"A shallow man is forced to face his inner self in this intimate examination of toxic male sexuality."
We're very proud an honored to celebrate our Northern American Premiere at the #shortfest18 !
April 2018
New Rep!
I'm more than happy to announce that from now on I am being represented by Jack & Jill International Agency
https://www.jackjillcasting.com/?model=achmed-abdel-salam
March 2018
Our premiere was at the Landshut Short Film Festival was a fun ride! Great atmosphere, nice staff and a successful screening . People enjoyed ADAM & ESRA, making it a beautiful evening for me.
Thanks,
January 2018
ADAM & ESRA goes Landshut Short Film Festival!
I'm excited that our film will have its German premiere in Bavaria.
https://www.landshuter-kurzfilmfestival.de/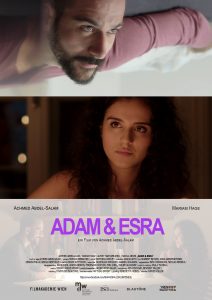 November 2017
New Showreel online!
October 2017
We are finalists! Glad to announce that our adaptation made it to the next round of the Script Writing Competition If she can see it, she can be it by the Drehbuch Forum Wien.
https://www.drehbuchforum.at/stoffentwicklung/drehbuchwettbewerb-if-she-can-see-it
I'm really excited to work with Didi Drobna (https://www.dididrobna.com/) on the film version of her fantastic novel Zwischen Schaumstoff.
You can order the book here (which only makes sense, if you are fluent in German):
https://www.amazon.de/Zwischen-Schaumstoff-didi-drobna/dp/3901899650
March 2017
AUSLASSUNGEN (OMISSIONS), my short essayistic documentary, will be screened at the
LET'S CEE FILM FESTIVAL in Vienna.
Achmed Abdel-Salam takes his audience on a journey to post-revolutionary Egypt, the homeland of his father. A very personal essay film.
Screening dates:
Wednesday, 22.3. 2:30 p.m.
URANIA
Sunday, 26.3. 2 p.m.
VILLAGE CINEMA 4
https://www.letsceefilmfestival.com/film-detail2017-en/items/world-matters-1.html
February 2017
BERLINALE
Pitching THE VISITING at the Reception of German Filmschools